Being one of the fore-runners of the industry, we have always adopted latest ultra modern technology at our plants.
Bleaching and Dyeing Facility
The company possesses excellent Dyeing Facilities. The range consists of perfectly dyed fabrics comprising of Sateen, Sheeting, Twill, Percale, Flannel, Dobby & Jacquards. The Uni-Dyed range is simply admirable from economical 120 to Premium 1200 Thread Counts with finished width up to 320cm.
It also has the Jet Dyeing facility for 100% polyester fabric and blends
Printing facility
Raghuvir Exim Limited possesses ultramodern printing setup having 3 Stork Pegasus printing Machine. We can print upto 16 Colours in all repeats like 64cm, 81.9cm, 91.4cm, 101.7cm & 116.8cm up to 320 cm width.
We have Stork's Best Len Lazer Engraving & CST UV Engraving for developing screens which is the latest technology in the market and gives precision of upto 1 Pixel.
Our Printing Processes include Reactives, Pigments, Disperse, Discharge (Pigment & Vat) & Burnt Outs. We can also do Metalic printing.
The Finishing facility
The company has 4 Montfort's Stenter along with E+L & Bianco weft Straightners to deliver bow-free fabrics. These are also equipped with kusters Padding mangle for even squeezing. We also possess Peaching, Sueding Raising, Sanforising & Singing Machines.
The Company offers finishes like Wrinkle free fire Retardant, water resistance, Easy care, stain proof, Aroma & Antimicrobial Finish up to 320cm finished width. We have also installed a foam coating machine by "Hansa" for Acrylic, PVC, and PU, and Coating for outdoor fabrics, table mats, cushions, Curtains ect.
The Stitching Factory
We Have State of The art Professionally Managed Stitching Factory with 600 Japanese Juki machines including UBT machines with auto trimmer and lock stitch buttoning machines with auto feeder to meet our high-end customers requirements. We have Capacity to stitch & deliver 40,000 sets/day.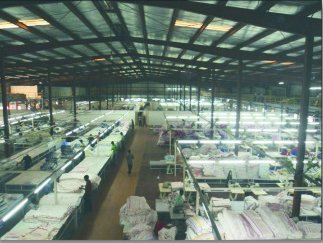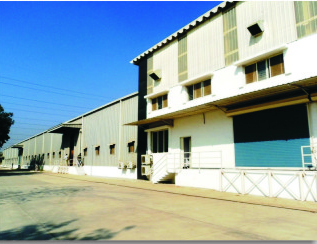 Digital Printing facility
We have also installed a Digital Printing Machine for sampling to offer quick services to our customers.
The Designing Lab
Our Company Comprises of some of the most talented & experienced designers working persistently to make sure that the company remains a trendsetter & fore-runner in offering of the most Creative & Innovative Designs to the customers. The Lab is equipped with 7 terminals having latest Stork's Best Image Design Software, Plotter Unit, Scanner Unit and Other necessary peripheral devices.
Capacity
3.5 Million Mtr/Month
1.2 Million Sheet Sets/Month